Skater culture in the Kingdom of Saudi Arabia
The mission of the U.S. Department of State is to promote security and democracy for the U.S. and the international community. Major concerns are freedom of speech and religion, human rights, and rule of law. How in the world can the U.S. State Department advance its agenda in a country that forbids women to drive and represses all forms of public religious expression other than one school of Sunni Islam?
After a week here, I can tell you one thing we absolutely shouldn't do: Scold and harangue the Saudis on human rights.  Well-intentioned programs to import speakers on issues such as religious pluralism are an irritant to the proud Saudi culture.
The Saudi consulate – an incredibly impressive and committed team – had a clever thought about advancing its agenda. What if we bring speakers to Saudi Arabia to discuss 21st century methods of doing business? Methods and tools like design thinking have implicit messages of pluralism, like the benefits of diverse perspectives on design projects, but we avoid overt lecturing. I had the honor of being selected for the diplomatic tour, based on past successes with the State Department and on recent successes from mach49, the venture incubator and accelerator I run with my partners in Redwood City.
That's how I found myself in Damman and Dharan, hosting a forum of entrepreneurs, meeting with business leaders, touring middle schools, and eating Halal food in quiet restaurants (music is forbidden in public venues).
ARAMCO
Before I tell you about the trip, bear with me while we cover some terribly important numbers. State-owned oil company Saudi Aramco is Saudi Arabia's economy, and the government shocked the business world with plans sell off a chunk of its crown jewel. A profitable IPO is intended to create a sovereign wealth fund that will generate enough investment income at home and abroad to dominate state revenue by 2030. The valuation and performance of Aramco will have a huge impact on Middle Eastern stability and on global business, and it will quantify the investment community's attitude towards the future of fossil fuel, so this is a development we all need to watch.
What's Aramco worth?
Deputy Crown Prince Mohammed bin Salman estimates Aramco's worth at $2 trillion, based on 261 barrels of reserves (crude oil in the ground) and the standard benchmark for valuing oil reserves at $8/barrel. In addition, Aramco recently saw an income tax cut from 85% to 50% to make it a more attractive investment.

Here's the biggest issue with Mr. bin Salman's estimate:  He is assuming prices are viable for the next 73 years at current pumping rates. Will global warming and alternative energy technology curb the world's appetite for hydrocarbons by the year 2210? I'm sure of it.
State-owned oil companies are rarely valued as dispassionately as the number suggest because of political risk, either real or perceived. Two examples:
Russia's Rosneft OAO pumps 5 million barrels per day, half of Aramco's output, and is valued at $35B.
Brazil's Petroleo Brasileiro SA is worth $23B even though it controls every facet of Brazil's oil industry.
EFG Hermes, an investment bank serving the Middle East and North Africa, predicted the market would value Aramco at between $1 trillion and $1.5 trillion. Even at the lower end, bringing 5% of the company public would deliver $50B in investment funds and debt service.

And finally…Credible economists and analysts (not short-selling trolls) are valuing Aramco substantially below $1T. Energy consultancy Wood Mackenzie has valued Aramco's core business at around US$400 billion.

Over the next two years, Aramco's valuation will tell us how the world feels about the future of hydrocarbon and the risks of investing in Saudi Arabia. Investor confidence leading to a fat $2T valuation will fast-track diversification, improve the transparency of a murky organization, and bolster the King's political capital. If investors are lukewarm, the Kingdom's $100B economic diversification project would be unable to move forward as planned, and the Saudi economy will remain tied to a commodity that is on the wrong side of history.
THE IMPOSSIBLE STATE
How was my week traipsing through Saudi Arabia? As you might expect, much more confusing and nuanced than expected. Saudi Arabia is an impossible labyrinth of contradictions, held together by the endless flow of oil money.  Here are some of the experiences that still make my Western head hurt…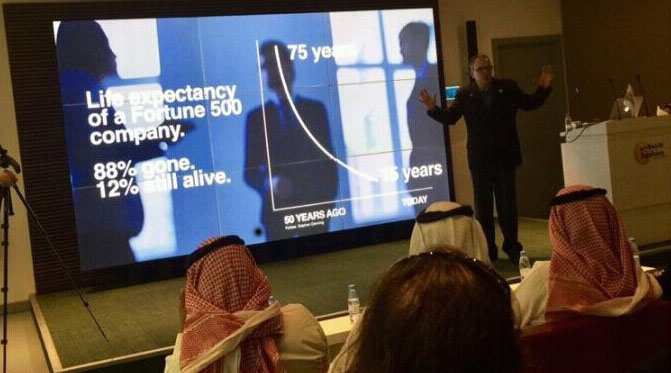 Holding forth on innovation in Dammam
Expat Attitudes
Before I arrived I had already invented  the answer here. The western expats I met would be troubled by country which, for example, forbids movie theaters and beheads men for civil disobedience. They'd have funny, sarcastic stories, and darker stories about oppression they'd witnessed.
Not so fast. I'm not trying to minimize the egregious human-rights violations in Saudi Arabia, but plenty of westerners enjoy living in the Kingdom, and not just for high pay. A fun, lively twentysomething Australian woman  told me without hesitation: "I love it here. Saudi Arabia has soul." She'd like to stay indefinitely. And a manager in an industrial park, recently relocated from hipster Oakland, told me that he had already made deep friendships with his Saudi coworkers and appreciated their warmth and openness.
Public Sector
More impossible numbers here to make you dizzy:
There are 20 million Saudis and 10 million guest workers in the country
Of the 20 million Saudis, 70% work for the government. Oil brings in the majority of government revenue.
90% of the private sector jobs – the people who cleaned my hotel room and cooked my food – are staffed by non-Saudi guest workers.
And the 20,000 royal family member see monthly stipends anywhere from $8K to $250K.
How is this possible? What keeps the engine running? Those government jobs have short working hours, generous benefits and substantial vacation time. And the Saudi citizens pay no income or sales tax. The answer, of course, is ten million barrels per day powering the economy.
The Art of the Workaround
One Saudi national called his culture "the art of the workaround". The Shura is an extremist and powerful council of clerics which proposes laws and forwards them to the King. Yet within the campus of Saudi Aramco, the rules are magically lifted. Women may drive and restaurants are coed. And Bahrain is a short drive from where I stayed, with its bars and clubs.
Entrepreneurship
The Saudis are grappling with the economic challenges of finding employment for a young and growing population and diversifying an economy that is overly concentrated in the energy sector. Culturally, government jobs are encouraged, and entrepreneurship is questioned. Maybe my contacts represent a tiny fraction of the total population, but the entrepreneurs at the Entrepreneurship Diwaniya at Dhahran Techno Valley were as astute as the hottest teams in Silicon Valley.
Again, I'm not devaluing the significant issues in Saudi government and culture. I am pointing out the contradictions to popular opinion: When I visited the Bayan Gardens School, focusing on STEM education for girls, the science fair presentations rivaled the quality of any primary or secondary education, anywhere in the world.
Finally, here's a shout-out to my incredible contacts at the consulate: Peter Winter was the driving force behind my visit, and Khatijah Corey handled every challenge with aplomb. And best wishes to our capable Consul General Mike Hankey from the embassy.
___________________________________________________________________________
___________________________________________________________________________
Update from Dave: February 2018
I wrote this post just over a year ago, and I now wonder if, not when, Saudi Arabia will pull the trigger on the biggest IPO in the history of global business.
The Riyadh government appears to be waiting for the futures price for a barrel of oil, one or two years out, to bump up at least $10 to  $70 per barrel. I wonder if a short-term rally will spur U.S. shale production, driving down oil prices and reducing the Saudi market share.
Longer term, as I watch the rapid growth of renewables and the rise of electric vehicles,  I ask myself if we're past "peak oil", particularly in view of new commitments by some nations to cut greenhouse gas emissions. If extraction of petroleum is already in a terminal decline, that's an even bigger story than an Aramco IPO.
As always, I look forward to hearing your thoughts.
___________________________________________________________________________
___________________________________________________________________________
Update from Dave: October 2018
Saudi Crown Prince Mohammed bin Salman again asserted a $2T valuation for Aramco. I admire his reform efforts, but it's an uphill struggle push any organization into a globally-scrutinized IPO when it's known for favoritism, nepotism and backroom deals. In addition, taxes were reduced from 85% to 50% to make the Aramco investment more attractive, causing major disruptions to government revenues in a kingdom with massive social welfare spending. All that said, Saudi leadership's credibility depends on a successful IPO. They surely know that time is not on their side and that the public markets are increasingly cautious about long long bets in the hydrocarbons economy. The world is looking for a bold move, not indefinite promises.
___________________________________________________________________________
___________________________________________________________________________
Update from Dave: December 2019
Three years after I weighed in on the Aramco Valuation and shared serious doubts about a $2T valuation. Investors are weighing in and you might think I need to eat crow (and I've sure been wrong before). After all, wealthy Gulf allies are buying into a $1.7T valuation, with the majority of investment coming from Saudi companies and funds. That's damn close to the $2T valuation asserted by MBS a few years ago.
Was I wrong? Not so fast. The bigger story here is the muted response from the international investors, compared to other major IPOs in emerging markets. Why aren't global investors putting in big orders? We hear the usual diagnoses: Worries about the security of Aramco's oil facilities, and concerns about murky reporting. I think we may be seeing something much bigger: A referendum from global markets on the potential of renewables to push petroleum extraction into a steady, terminal decline. Sure, Aramco's reserves are good for 90 years at current rates of production…but global markets may be losing confidence in hydrocarbons as a long play.  
As always, I'd like to hear from you. Weigh in, please. Aramco: Hot or Not?
___________________________________________________________________________
___________________________________________________________________________
Update from Dave: August 2020
Four years after I questioned the valuation of Aramco, the markets have voted in their valuation the world's largest oil company compared to the world's biggest, forward-facing tech companies:
Apple: $1.9T
Saudi Aramco: $1.8
Alphabet: $1T
Any opinions out there? I believe we're seeing a referendum from global markets on the potential of renewables to push petroleum extraction into a steady, terminal decline..and also a referendum on the long-term potential of companies owning the digital ecosystems for payments, entertainment or advertising. This is not a trend that is reversible through promotions or repositioning. It's a historic shift.
Let's all watch Saudi Aramco shift its focus from oil to industry. We're already seeing big moves into the Vision Fund and Lucid. Watch for even more dramatic moves in the near future.